Not a lot of people know the real differences between a heat pump and furnace. Even fewer know the reasons you likely need both.
Here is a breakdown of the different components of these systems and why you may want to add a secondary system if you only have one or the other currently in place.
Benefits of heat pumps
Heat pumps are energy efficient and most cost effective when operating with outdoor temperatures above 40 degrees. Heat pumps can transfer approximately 3-4 times more energy than they use to make it, causing them to be a strongly preferred option for heating or cooling your home cost-effectively and lowering your electric bill. Regular heat pumps don't generate heat from a heat source but rather use electricity and refrigerant to transfer heat from outdoor air into the indoor space. This process is reversed when using a heat pump for air conditioning during summer months. However, the way the heat pump works when temperatures drop down into freezing temperatures greatly reduces its efficiency and lessens its reliability during cold weather snaps.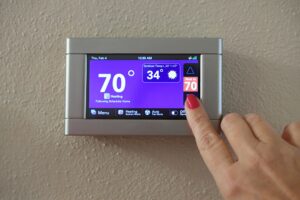 Furnace for freezing temperatures
Furnaces, on the other hand, create heat using electricity or another source of fossil fuel such as oil, natural gas or propane. The burnt fuel creates heat rapidly and heats even in the coldest of temperatures, however, the energy efficiency is not nearly as great as a heat pump.
Dual-fuel heating system
Using a dual-fuel heat pump can be beneficial. This kind of system has an electric heat pump and an alternate fuel furnace. The furnace can burn oil, natural gas or propane to generate heat and send the resulting heat into the home. In the warmer months, the heat pump runs air conditioning. In the spring and fall, the heat pump can heat your home but when there is a significant drop in winter temperatures, the furnace takes over in heating the home to maintain efficiency and lower the overall cost of heating.
Ductless mini-split heat pumps
This is the most energy efficient and cost-efficient method of heating and cooling, especially when there is not current ductwork in place, or where ducts would be difficult to install. The size of the ductless heat pump needed will vary, depending on the number of rooms or zones needing to be cooled or heated. The downside to this kind of system is in a bigger home where multiple heat pumps would be necessary, and the different zones would need to be programmed for each area's heating needs. The whole home would not necessarily be controlled with an individual thermostat, causing some extra work to adjust settings. For more information about these systems, go to Lennox.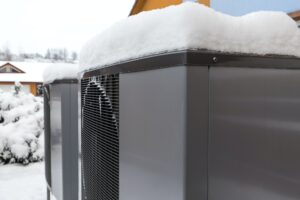 Summary
In summary, some homes in the Pacific Northwest have a furnace or a heat pump. However, for climates that go down to or below freezing regularly, pairing a heat pump with a furnace can save you money because the energy efficiency of a heat pump is much greater than a furnace. Additionally, the heat pump can work as an air conditioner during the warmer months giving you an added benefit of cooling, while also saving you money by doing it in a cost-effective manner. Using the furnace will still be necessary during below freezing temperatures but the majority of the year, the heat pump's job is to save you money!
Service, Maintenance and Installation
While heat pumps and furnaces usually last 10-20 years, they must be properly maintained and serviced to keep them in proper working order. To schedule an inspection or service appointment, go to https://www.threeriversheating.com/services/
If you are considering adding a heat pump to bring down energy costs or have questions about evaluating your system, contact us here
More on HVAC Systems
How Smart Home Technology Is Working For HVAC In Homes
What SEER Rating Should I Buy?
5 Ways to Save Energy in Your Home
What Does an HVAC Contractor Do?