If you're looking for a way to save energy, you should consider a smart thermostat. This device is connected to Wi-fi and can be programmed to regulate your home's temperature.
Here are some of the major benefits of this small investment.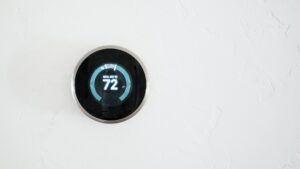 Energy Savings
A smart thermostat can be programmed to decrease and increase the temperature in the home daily at specific times. Consider the savings if your thermostat drops your air conditioning while you are at school or work. Running a program to decrease the heating and cooling load can drop your energy bill by 10% a year, according to Energy.gov.
The ability to adjust your home's temperature from Wi-fi means you can change your temperature settings even while you're away from home. If you leave on vacation and forget to adjust your thermostat settings, there's no problem. If you are going on a trip and decide to stay another day, again, there's no problem. Adjusting your smart thermostat from a smart phone or other Wi-fi enabled device is easy and can be done from anywhere with an internet connection.
In addition to saving energy, smart thermostats can track your energy usage and provide regular reporting so you can improve your energy usage by looking at your patterns.
Motion Sensors
Smart thermostats come with motion sensors to detect when you are home or away. This feature can save energy by dropping the temperature when no one is detected in the home. With the most recent technology, smart thermostats can even learn your routine based on when the motion sensors detect your presence and adjust heating and cooling accordingly. For larger homes, additional sensors can be placed in other rooms that the location of the smart thermostat to ensure motion is sensed in other commonly used rooms.
Easy to Install
If you are concerned about the difficulty of installing or programming a smart thermostat, this is where the device stands out. As long as you have the correct wiring, it's as simple as turning off the power and reconnecting the wiring from the old thermostat to the new thermostat, installing the new faceplate, restoring power and programming the new smart thermostat. Programming instructions for the smart thermostat will be included in the device but are relatively simple, especially when using some of the pre-programmed settings.
For a device that starts at around $50 for a basic model and increases to a few hundred dollars for extra features, this is a fairly inexpensive way to start saving in your home.
For more information on how to save energy in your home, contact us here at Three Rivers Heating and Cooling